Trade Shows Are Gone... Now What?
by Patrick McGovern - April 16, 2020 - 6 minute read
Overview:
Like so many sectors, manufacturing has been hugely impacted by recent events. This "black swan" event will not allow organizations to maintain a business as usual stance — even once countries begin to reopen.
 A lot of 2020 trade shows are gone. The Center for Exhibition Industry Research (CEIR) is estimating the loss due to COVID-19 for events and trade shows at a staggering $1.8 billion and growing. This key marketing tactic for so many has just been taken off the table leaving teams scrambling to figure out what to do next.
Sales teams have been grounded and may stay that way for months. Restrictions on travel and normal business interactions will continue for what is now an indefinite period of time, putting even greater demand on organizations to build and maintain important business relationships.
To date, many in the manufacturing space have viewed their websites as a branding opportunity, a way to relay important information and, at best, an electronic storefront. While not ideal, this approach was enough to get by, particularly given the more traditional tendencies of buyers in the manufacturing sector. However, a simple electronic storefront might not cut it anymore. There is a silver lining — the chance for organizations to move fully into the digital space by re-evaluating the role a website plays in the overall marketing and sales mix.
Below are several ideas to consider while taking business online, designed to help strengthen your relationships and deepen engagement with clients and prospects without in-person trade shows.
Don't worry - virtual helping hands are still safe!

We're Not In Kansas Anymore
The spread of COVID-19 has created a set of circumstances which were impossible to predict or see coming, and as a result impossible to prepare for. As of the writing of this article, no one can imagine the full extent of this event or what the lasting impacts will be.
Two things are becoming clear, however:
It will take much longer than most care to admit to "get back to normal." President Trump stated on 3/16 that the virus may have a grip on all of us until August. Right now, August sounds optimistic.
There will be no "back to normal" in the literal sense. The genie is out of the bottle. The rules of the game have likely shifted permanently, and once the dust settles it will be life before COVID-19 and life after.
Where do we go from here?
Before jumping in, let's start with an overview of the business landscape pre-COVID-19.
For many in the manufacturing space, trade shows were a critical element of their sales and marketing plan. In fact, in some cases it may have been the only channel. Trade shows are an effective way to get in front of current and potential customers, a great place for learning, and a way to reconnect with friends.
But now, trade shows are gone and sales forces are grounded. There's an estimate in the air of 6-8 weeks before they can get back on the road. Again, I think those numbers may be optimistic. Who knows?
Manufacturers also need to keep in mind the possibility of salespeople getting sick and being unable to work. Moreover, companies should consider the type of stress having out of work employees will put on the sales funnel.
This is the current state of affairs. And many are scrambling for a plan B.
So, with no trade shows, and a grounded sales force, manufacturers need to lean into a digital strategy that will propel them forward.
The Evolution of Websites Within Manufacturing Organizations
Leaning into a digital transformation starts with your website. In this new era, organizations need to rethink the role of this channel, taking it from a simple, digital storefront to the full store itself, complete with methods for building relationships and driving business. What follows are just a few examples that you can implement to move your site in this direction.
Customer Reviews
For organizations looking for some low hanging fruit, customer reviews add a wealth of benefits to your site. Consider the following:
In the U.S., 68% of online shoppers are more likely to engage with businesses that have positive reviews

(

BrightLocal

 2017

).

93% determine whether a business has a good reputation (or not) based upon the available reviews.
A 2016

Fan & Fuel

 study reported that 92% of consumers hesitated to make a purchase if there were no customer reviews, and a full 97% say customer reviews factor into their buying decisions.

According to Spiegel Research Centre,

products with reviews are 270% more likely to be bought than a product without.
Clearly, there are big benefits. If you are looking to deepen the level of engagement and move prospects down the buying funnel – customer reviews need to be a part of your site.
The About Us Section
Traditionally, the About Us section features head shots of the leadership team along with short bios about their accomplishments and professional career. By and large, this is a fairly dry section.
Instead of focusing on accomplishments, organizations should now focus on the individual. This could be a list of random questions to highlight their personality, their thoughts on current industry trends or even one quick fact that gives glimpse into who they are.
In other words, the type of memorable information that might come out if you were meeting them at a trade show.
This could be accomplished in copy... but I would encourage the use of video or photos to help convey personalities and help develop more of a relationship.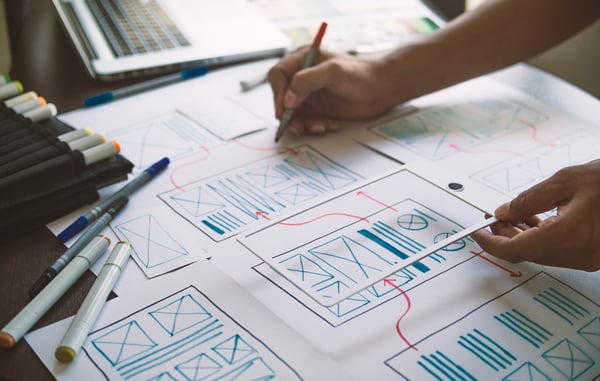 Content That Converts
Visit many manufacturing sites and you will find an abundance of products and product information. However, most of this is features and benefits. While this information is essential, it does not necessarily close a sale.
Research from the CMO Council entitled "Lead Flow That Helps You Grow" found that only 12% of marketers believe their company has a high-performance content marketing engine that targets the right audiences with relevant and persuasive content.
In the old-world order, companies counted on their sales team to handle this. But in our new COVID-19 world, web content will need to work harder. Clearly there's an opportunity. And it means going beyond just features and benefits.
Instead, content should mirror the language your salesperson would use to position and sell products and services. In fact, this is a great opportunity to bring your sales team into the process and have them contribute to developing content either in copy or in video. 
Of course, not all of this content can be open to the public. But that is an easy fix, some or most can exist behind a gated area accessible with certain permissions. Gated content is also a great way to generate new leads.
Creating a Microsite
If your organization was planning to be at several trade shows this year, chances are you have already produced themes and collateral for the events. Consider moving these online and housing this material within a microsite that mirrors your event theme.
Microsites don't have to be a big investment. And you could use them as a way to gain leads by providing information in a downloadable format.


A Fresh Start
Up to now, most of my thoughts have focused on making modifications or enhancing sections on your existing site. But for some, these adjustments may not be enough - you might need an entire website update.
There's some good news – now is a good time for this kind of project. And once this situation has passed you will be in a great position to move forward.
The loss of trade shows hurts, there's no question about it. But this blow doesn't have to mean a complete stop to business. As events continue to change organizations must adapt. Rethinking your website is the place to start.


A Free Website Evaluation Checklist
To get you started, the team at Ascedia developed a Website Evaluation Checklist. This tool can help you prioritize the areas of your site that need help. You can download the PDF here. I hope it helps.